Adnan Khalil
Publish Date: 14 Nov 2015
Alhawadeth Media
Thanksgiving, or Thanksgiving Day, is a holiday celebrated in the United States on the fourth Thursday in November. It has been celebrated as a federal holiday every year since 1863, when, during the Civil War, President Abraham Lincoln proclaimed a national day of 'Thanksgiving and Praise to our beneficent Father who dwelled in the Heavens', to be celebrated on the last Thursday in November. Thanksgiving was also celebrated nationally in 1789, after a proclamation by George Washington. As a federal and public holiday in the U.S., Thanksgiving is one of the major holidays of the year. Together with Christmas and New Year, Thanksgiving is a part of the broader holiday season.
The event that Americans commonly call the 'First Thanksgiving' was celebrated by the Pilgrims after their first harvest in the New World in 1621.[3] This feast lasted three days, and it was attended by 90 Native Americans (as accounted by attendee Edward Winslow) and 53 Pilgrims. The New England colonists were accustomed to regularly celebrating 'thanksgivings'—days of prayer thanking God for blessings such as military victory or the end of a drought
Harvest festival observed by the Pilgrims at Plymouth
Americans commonly trace the Thanksgiving holiday to a 1621 celebration at thePlymouth Plantation, where the Plymouth settlers held a harvest feast after a successful growing season. Autumn or early winter feasts continued sporadically in later years, first as an impromptu religious observance, and later as a civil tradition.
Squanto, a Catholic Patuxent Native American who resided with the Wampanoag tribe, taught the Pilgrims how to catch eel and grow corn and served as an interpreter for them. Squanto had learned English during his enslavement in England. The Wampanoag leader Massasoit had given food to the colonists during the first winter when supplies brought from England were insufficient.
The Pilgrims celebrated at Plymouth for three days after their first harvest in 1621. The exact time is unknown, but James Baker, then Plimoth Plantation vice president of research, stated in 1996, 'The event occurred between Sept. 21 and Nov. 11, 1621, with the most likely time being around Michael MAs (Sept. 29), the traditional time.' Seventeenth-century accounts do not identify this as a thanksgiving observance, rather it followed the harvest. It included 50 persons who were on the Mayflower (all who remained of the 100 who had landed) and 90 Native Americans who were invited as guests. The feast was cooked by the four adult Pilgrim women who survived their first winter in the New World (Eleanor Billington, Elizabeth Hopkins, Mary Brewster, and Susanna (White) Winslow), along with young daughters and male and female servants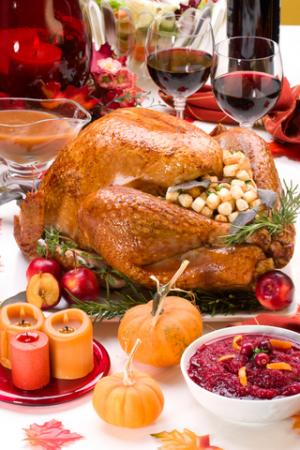 عيد الشكر بالإنجليزية: Thanksgiving هو يوم إجازة وطنية في الولايات المتحدة الأمريكية و كندا، للشكر النعم عل وللشكر على حصاد العام الذي أشرف على نهايته.
في الولايات المتحدة الأمريكية يحتفل بها في الخميس الرابع من شهر نوفمبر من كل عام، وفي كندا في الإثنين الثاني من شهر أكتوبر. تقام احتفالات وأعياد مشابهة في أماكن مختلفة من العالم وفي أوقات مختلفة، لعيد الشكر جذور دينية وجذور ثقافية رغم ذلك يحتفل به حاليا بطريقة علمانية.
الاحتفال بعيد الشكر في فصل الخريف يعود إلى احتفالات كان يقوم بها المزارعون بعد موسم الحصاد لكي يشكروا الرب على ما منحهم من خيرات. وفي عام 1620 وصل بعض الإنكليز إلى مدينة بليموث في ولاية ماساتشوستس، وبعد رحلة طويلة وبسبب قلة خبرة المهاجرين في الزراعة والطقس البارد توفي البعض منهم.
وبعد شهور تدخّل أحد الهنود وكان رئيس قبيلة مسيطرة في المدينة فتقرّب من المهاجرين الإنكليز لإنقاذهم من المعاناة والخسائر التي تواجههم، فعلمهم الصيد والزراعة.و للاحتفال باول موسم حصاد أقام الإنكليز احتفالا لثلاثة أيام دعوا الهنود إليه ليشكرونهم على المساعدة و...للصلاة.
و منذ ذلك التاريخ بات الاحتفال بعيد الشكر من التراث الاميركي كمناسبة لاجتماع وللقاء بين افراد العائلة .وفي عام 1941 أقر الكونغرس الأميركي الاحتفال بهذا العيد الخميس الذي يأتي قبل السبت الأخير من شهر نوفمبر من كل عام.
في هذه العطلة أو العيد تجتمع العائلة الأمريكية على مائدة عامرة يتوسطها ديك رومي.
ومن طقوس العيد الطريفة أنه يتم طبخ ملايين من والديوك الرومية ويترك ديك حي يقدم هدية إلى رئيس الجمهورية الأمريكية فيعفو عنه من أن يُأكل.
هذا وتحتفل بعض المدن الامريكية بتسير مسيرات احتفالية مهرجانية يشارك فيها الفنانون الطلبة والمؤسسات التجارية كما يحصل في نيويورك من كل عام
Source : Wikipedia